The coming weekend heralds the return of ONE FC to its home base of Singapore for its sixth event.  It is entitled "Rise of Kings", presumably because two victorious fighters from the bantamweight and lightweight divisions will be bestowed with Championship belts engraved with lions and emblazoned with the ONE FC insignia.  One of those kings will arise from a rematch – Leandro Issa versus Kim SooChul – and another from a straight out of left field – a riser in the ONE FC ranks, Zorobabel Moreira, will be pitted against a completely new threat to the cage in Kotetsu Boku.
Oddly enough, the potential Bantamweight Champion will be in the locker room with three guys ready to be the next challenge to his belt before he's even won it, as "Rise of Kings" initiates a Bantamweight Grand Prix with three matches on this card.  Not to be outdone, both men looking to claim the Lightweight Championship share the glory of the night with a Lightweight Superfight between Asia's currently unwritten numero uno Shinya Aoki, and the man who begged for a shot at him after beating his teammate, the gregarious Arnaud Lepont.
Aside from heart attack-inducing Grand Prix fervor and two 13-lb gold-laden championship belts up for grabs, there is real, verifiable gold left to be mined from this fight card.  It is stacked with talent from not only across Asia, but the world, from fighters arguably in their twilight years to surprising entries of current stellar athletes to rising stars.  It is the most eclectic – and interesting – card that ONE FC has put together since its relatively recent debut just a little over a year ago.  Given ONE FC's aggressively sought-after network, and under the guiding hand of the  PRIDE Godfather Matt Hume as matchmaker for this card, it was indeed an interesting one to explore.
There are three fights that are not tournament or championship fights.  This article takes an in-depth look at them.
Ngabdi Mulyadi versus Mitch Chilson
The first fight of the night will feature Indonesia's Ngabdi Mulyadi versus Evolve MMA's Mitch Chilson.  Not many people are focused on this fight, yet this is the deepest vein of the gold to be found in Asia right now.  In 2003, Mulyadi started competing in MMA five years after his wrestling career had already begun, in Indonesia's televised TPI FC, when most of Asia had no idea what the sport even was.  His wrestling base made him dominant and he learned how to use ground and pound, until he came up against Indonesia's arguably greatest MMA product in Fransino Tirta and experienced his first loss.  Inaugurated into the cage at ONE FC 2 in front of a home town crowd, he dominated Peter Davis with his superior wrestling and showed ability to take punches and knees, until Peter was finally able to capitalize on a flaw in his ground control in the 3rd round and slip on a tight triangle for the win.  Since then, he's been teaching wrestling full time yet found a way to continue competing in regional MMA and submission tournaments this year alone.
Mitch Chilson is coming off a bittersweet overturn of a decision against him because of an illegal soccer kick – one that instigated a revamping of the ONE FC ruleset to that which requires no referee approval for kicks to a downed opponent.  Mitch showed his ability to take hard shots when he was punctuated by Eric Kelly in the opening stanza of their bout, yet drove through for a single leg.  The fight was three minutes of clinch fighting until Kelly was able to capitalize upon a position during Mitch's takedown attempt, and sink a standing choke in from behind that had Mitch out before he hit the ground.  Mitch, one of the original Evolve MMA Fight Team members, proved he'd learned from that when ran through AJ Vaa, then put Shannon Cai against the cage and dominated him for an entire round.  A desperate Cai with his hands low caught Mitch as he was coming forward, which sat him right on his butt.  As Mitch was recovering to his feet, Cai went for a soccer kick, referee Moritaka Oshiro stopped the fight inexplicably.
Mitch's base is in Muay Thai, but it's his clinch and wrestle game he's showed in his ONE FC tenure, and Mulyadi himself is a verified dyed-in-the-wool wrestler.  Both of these guys know how to do stunning takedowns and work the cage well.  It will be very interesting to see if Mulyadi will be able to careen right through Mitch's stand up in order to be able to implement his wrestling strong suit, and what aspect of his game Mitch will bring knowing this.  Mulyadi says he's just been training wrestling, and Evolve fighters always bring a game plan.  Both fighters are familiar with head stomps and soccer kicks, so this one can get violent quickly.
Gianni Subba versus Bruce Loh
Gianni Subba is a fresh 19 years old and getting thrown to the "Lions" when he steps onto the largest stage in Asia for his professional debut. The Malaysian who fights out of Monarchy Gym in Kuala Lumpur has been training MMA for two years. Previous to that, he was a freestyle wrestler in high school in the US and a silver medalist at Utah's Champion Submission Grappling Tournament in 2009, a no-points, submission-only tournament. What he has on his side is obviously the vim and vigor of youth, and a few years in combat sports. The matchmakers of ONE FC must have seen something in this kid to give him a shot at Evolve MMA's Radeem Rahman, who trains six hours a day six days a week and competes in BJJ and Muay Thai.
Due to an unfortunate training injury, Rahman was replaced on very short notice by another Singaporean, Impact's Bruce Loh. While Loh's MMA record is, well, low, he's got a decade's worth of medals in jiujitsu, boxing and sanda competitions and is a full-time martial arts instructor. Loh's first run in the cage was three 3-minute rounds of submission attempts and misses against Shoyidor Jurabekov that led him to a decision win. His second time out, Loh cannibalized 21-year old Ahmad Nazharul in 16 seconds with a standing RNC, proving age difference is irrelevant.
Watching flyweights fight is like watching "spiders on a hotplate" as it's been said, although this one remains to be seen if they will indeed dance, or just try to rip each others' limbs off. Though there isn't much by which to judge Subba's ability, what stands out in his favor is that the new generation of young MMAists generally sees MMA as a complete game, with less compartmentalized skill sets, which at his rookie level may help him survive whatever is thrown at him. However, Loh's proven ability in different areas of combat give him more options to formulate a game plan and use his strengths to best advantage. The Singapore versus Malaysia rivalry will be in full effect and this is a smart early fight to rev the Singapore Indoor Stadium into a frenzy.
Ryo Kawamura versus Melvin Manhoef
Kawamura has no submissions in either column of his record standings.  Manhoef has knocked out 23 out of the 25 MMA opponents he's beat.  Someone is going to sleep the quick way, or we get three rounds of bloody rock 'em, sock 'em robots.
Kawamura is the breed of Japanese fighter that is completely entrenched in the culture of Japanese MMA.  A Pancraseist by blood – Neo Blood that is – he became the organization's latest Light Heavyweight Champion in 2008 and defended the title an astounding three times before vacating the title to move to Middleweight.  At Middleweight, he became King of Pancrase as well in one night of a grand prix-style tournament, and in his first defense of the title, soccer-kicked Shungo Oyama out of the organization.  In 2010 he became the President of Pancrase and instituted some structural reforms which have led to an expansion, proving that he's not just a hunk in shiny black trunks, but that he's got brains as well.  Those brains can take a beating too: in 2008, he had an epic rematch with LHW KOP Keiichiro Yamamiya in which he absconded with the belt only after fifteen minutes of brutal back and forth bashing.  In Sengoku, he was the only person to defeat Antonio Braga Neto, and he took both Kevin Randleman and King Mo to decisions; they weren't able to get get him floored with punches or keep him on the mat very long.  This guy is strong.
Manhoef will return to the ONE FC cage in quick fashion after a recent three round war with an amazingly resilient Kim JaeYoung at ROAD FC 10.    A highly anticipated brawl with DEEP LHW Champion Yoshuyki Nakanishi at ONE FC 3 was curtailed due to a clashing of the shins that left too much gaping flesh for Yuji Shimada to allow it to continue.  Manhoef's brutality in the ring first got the attention of the world when he met Cyborg Santos at Cage Rage in 2006 and both fighters made a good case for MMAists being some sort of super humans.  The level of violence didn't let up, until Manhoef realized the brutal knees he was taking might put him on the other side of the scorecard so he walked in with terminator precision and laid out the badass Brazilian with machine gun staccato.  His stellar KO ability is statistically legendary, with an 18-second KO of Mark Hunt, and an impressively rapid 1:49 KO of Kazuo Misaki.  His simultaneous K-1 and MMA career made him one of the most active fighters in the world.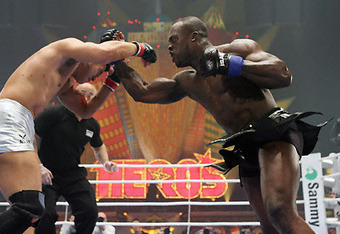 Kawamura has proved he can bang with the best, but beyond that he's an incredibly intelligent fighter in the ring, able to adapt and respond to the conditions of the fight.  His brute strength and positioning has kept him from ever being submitted, but with this guy, nobody ever wants to see it go to the ground anyway.  The same goes for Manhoef.  He's got knees that could stop a bus and fists that crack diamonds.  However, he's ring-savy and adaptable as well: if his hands fail him of a KO in the first, he is able to figure out his opponent's strengths and keep going for the kill.  Actually, it's saddening that one of these warriors may just leave the ONE FC cage on a stretcher.
ONE FC 6, "Rise of Kings" takes place this coming Saturday, October 6th, at the Singapore Indoor Stadium.  For tickets, full card, pay-per-view, and all other information, visit www.ONEFC.com.  MMA-in-Asia will be reporting all weekend with live updates  from Singapore, from the weigh ins through the event.